Congratulations to this year's Award Recipients!
The following are the individuals and companies receiving recognition for their achievements in the past year. Join us to honor their accomplishments at AGC Honors 2024 on January 16!

LIFETIME ACHIEVEMENT AWARD:
Al gerhardt
Al was raised on a dairy farm in Fairmont, MN and studied at Minnesota State University-Mankato, earning a Bachelor of Science degree in Construction Management. After graduation he began his career with Kraus Anderson (KA) in 1980, garnering project management expertise on several sizeable KA projects in Texas, then returning to Minnesota in 1984. During the first 10 years of his career with KA, Al worked in various markets in a lead project management role completing over 700 hotel rooms; 1000 apartment units; 1,200,000 SF of commercial office space; 550,000 SF of retail space and 2,300 stalls of structured parking. He has held various leadership roles at KA, including leading the consolidation of KA's Twin Cities construction operations, culminating in the construction of its new 100,000 SF corporate headquarters in downtown Minneapolis in 2017. Al was promoted to Chief Operating Officer in 2007 and then to its President in 2017.
As President, Al has primary responsibility for the overall operation and performance of Kraus-Anderson's seven construction offices located in Minnesota, Wisconsin and North Dakota. Under his leadership, Kraus-Anderson has been consistently ranked among the Midwest's top 50 Construction Management firms at Risk by Engineering News-Record.
He currently serves on the boards of the AGC of America (as Minnesota's representative) as a Life Governor, and the Twin Cities ACE Mentor Program. He is a member of NAIOP and past presenter at their national conference. In addition, he has served on the State of Minnesota Building Code Advisory Board, Construction Industry Round Table (CIRT) Board, Construction Specification Institute, Minneapolis City of Lakes Rotary Club; and is a past chair of the Board of Cornerhouse, a non-profit child advocacy organization; and is past chair of the Minnesota State University-Mankato Construction Management Advisory Board.; and holds General Contractor licenses in Florida, Mississippi and New Mexico. He is a LEED Green Associate.
Al and his wife Audrey have two daughters (Madeline and Ashlee) and two grandchildren.
SKILL-RESPONSIBILITY-INTEGRITY (SRI) AWARD: Mark Ziegler
Mark Ziegler was raised in Buffalo, Minnesota where he was ingrained with a strong work ethic and drive to always do whatever it takes to get the job done exceptionally well. Mark attended Mankato State University and majored in Construction Management. During college he framed houses and completed an internship with Holman Erection Company in St. Paul. After completing his degree, he opted to become an Ironworker to gain a first-hand perspective and knowledge of life in the trades. Mark worked his way up to Ironworker Journeyman, then Manpower Dispatcher, Safety Director, and Project Manager. After 12 years at Holman Erection Company, Mark began working for Amerect, Inc., a structural steel and architectural precast erector, where he managed large projects including TCF Bank Stadium at the University of Minnesota, the Gerdau Steel Mill in St. Paul, the Gonda Building at the Rochester Mayo Clinic development, and many more. Mark eventually became the President and Owner of Amerect, where he grew and managed many people in the office and the field. Mark greatly respects and admires the people that work so diligently to make Amerect the steel erector it is today.
Mark truly values the tradespeople that build the buildings we work and grow in and has been dedicated to helping the union construction industry by serving as Management Trustee for the Ironworker's Apprenticeship fund for 33 years, Chairman for the Ironworker's Apprenticeship Program for 18 years, Management Trustee for the Ironworker's Health and Welfare fund for 14 years, on the AGC Board of Directors for 3 years, and a Management Trustee for the Union Construction Workers' Compensation Program. Mark is also very involved with and on the Board of the Directors for Minnesota Independent College and Community (MICC), which serves young people on the autism spectrum. Mark also coached youth hockey in Faribault for 12 seasons.
Mark is always patient, humble, kind, and willing to give a helping hand. He is the hardest worker you'll meet and is an inspiration to all those he works with. Mark enjoys spending time with family and friends at his northern Minnesota lake home. He and his wife, three children, and granddaughter are a tight knit group and have always supported each other throughout their journey.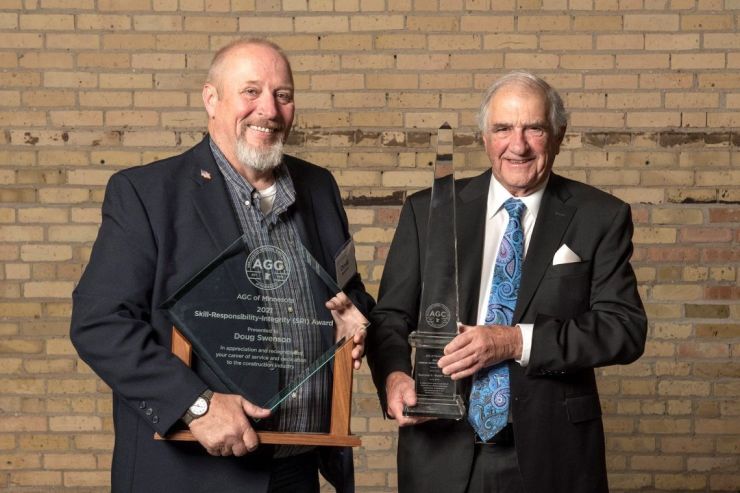 JEFF JENSEN MEMORIAL CONSTRUCTION SAFETY EXCELLENCE AWARDS
This AGC safety award began in 2003 as a tribute to Jeff Jensen, former owner of J.R. Jensen Construction Company (Superior, WI), and a strong advocate for field safety training, having served on the Duluth Safety Day committee for several years. The award is determined by the number of hours invested annually on safety training for each craft, supervisor/manager and subcontractor employee, as well as the company's experience modification rate, total recordable incident rate, number of lost workday cases, and number of medical only cases.
Recipients for 2023:
Category I
(0 – 149,999 work hours)
Category II
(150,000 – 299,999 work hours)
Category III
(300,000+ work hours)
DEI Awards
In 2022 AGC of Minnesota launched a series of annual DEI Awards to recognize member businesses for their initiatives in the diversity, equity, and inclusion space. Awards are given in four categories:
DEI Excellence Awards

General Contractor
Specialty Contractor
Service Provider / Supplier (Affiliate member)


Diverse Business of the Year Award (MBE member)
Award recipients coming soon!
AGC/MNDOT BRIDGE AWARDS (2022 COMPLETION)
These annual awards recognize and showcase craftsmanship, technical skills, innovation, and dedication to quality in the bridge construction market. Each nominee is field reviewed and evaluated by a panel of MnDOT and industry representatives.
Award recipients coming soon!